Friends of the Library
Help the Library by becoming a Friend.
Would you like to be our Friend?
Everyone's a friend of the library, but why not formalize the relationship? If you value books and reading, you're invited to join us in our endeavors.
2023 Book Sales
Stephens Central Library basement
9 am - 1 pm
Saturday, March 4, 2023
Saturday, June 3 , 2023
Saturday, August 5, 2023
Saturday, October 7, 2023
Saturday, November 4, 2023
Cash and card accepted
Carryout available
Prices
| | |
| --- | --- |
| Hardbacks (including Large Print) | $1.00 |
| Paperbacks (including Large Print) | 50¢ |
| Music CDs / Books on CD / Records | 10¢ |
| Children's/Juvenile/Young Adult | 25¢ |
| Puzzles and DVDs | 50¢ |
Larry Justiss Book Store
@Stephens Central
In addition to bi-monthly sales, volunteers of the Friends of the Library operate the Larry Justiss Book Store in the Stephens Central Library. You'll find every genre you can imagine, plus a specially curated Gift Collection, and a Texana and local-authors section.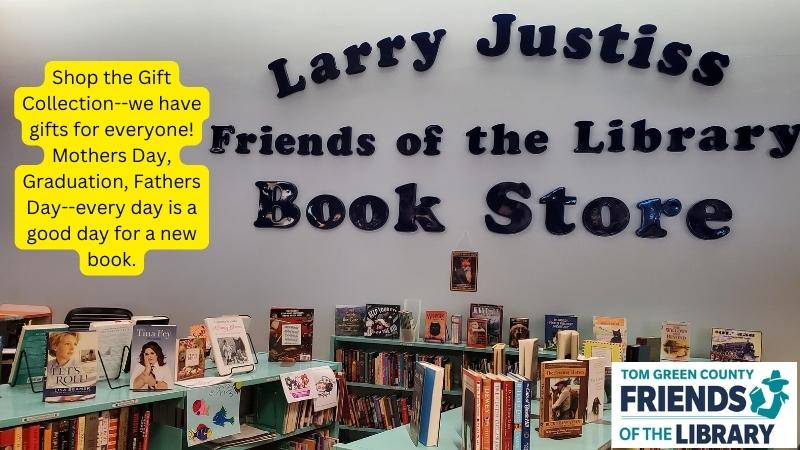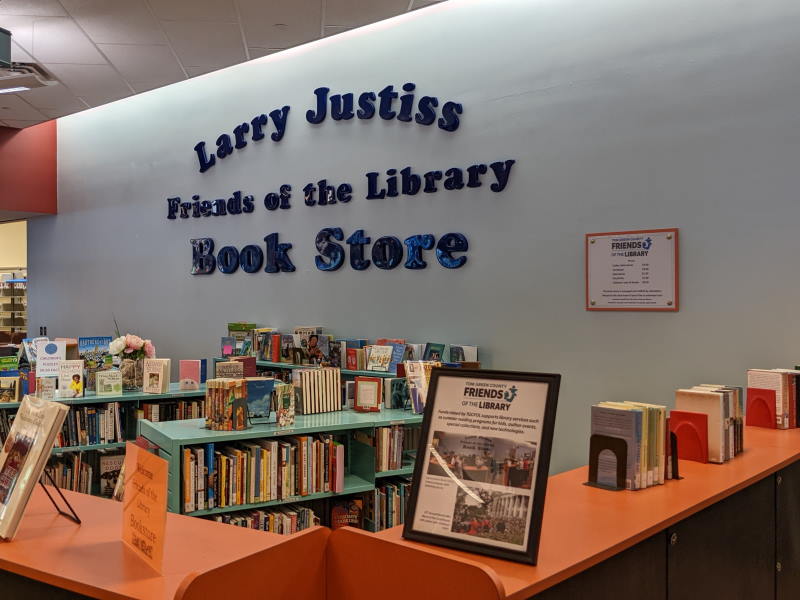 ---
Friends of the Library
History, Mission, and Membership
History
Organized in 1979, Friends of the Tom Green County Library, Inc. was established to promote use of the Library and its many services through donations and various projects. The Friends were a motivating force behind the construction of Angelo West Branch Library and have donated substantially to the North Branch Library expansion. Working with County Commissioners and Library Administration, the Friends provide strong leadership in bringing Tom Green County residents exceptional library services.
Bi-monthly Book Sale
One of our most popular projects is the bimonthly, first-Saturday book sale, held in our headquarters at Stephens Central. These sales raise thousands of dollars for the library each year. Additionally, our volunteers manage and operate a book store in Stephens Central.
Purchase Books Online

Books are also sold online through Abe Books.
Proceeds are used to strengthen the library collection and sponsor programs and activities that enhance use of the Library and encourage reading.
Membership Dues
We invite your support. The cost is little; the rewards immense. Fees are as follows:
Individual: $10.00 a year
Family: $25.00 a year
Individual Lifetime: $150.00
Family Lifetime: $300.00
Apply for Membership
Becoming a Friend is easy. Just fill out the application (also available at all libraries) and mail with payment to:
Friends of the Library
P.O. Box 60421
San Angelo, TX 76906
Support the Friends
You can also support us with your purchases through Amazon. Visit Amazon Smile for more information and to choose the recipient of your charitable giving.
For more information on membership or volunteer opportunities, contact the Friends at tgcfol@yahoo.com or stop by the book store at Stephens Central to talk with a Friend.
---